Good morning, my lovelies! I trust you all had a wonderful weekend. Mine was a mix of productivity and sloth. I completed my mossy DIY project and made hummus for the first time (feel free to suggest recipes). I won my cupcake toppers and walked to the gym and best of all, Andy found a suit to try on!

Now that we've joined a gym, I think he is ready to begin trying on suits - in addition to my constant reminders via shared Reader posts. Thanks to weddingbee, I'm pretty sure this post is what inspired his look: grey 3 pc suit (sans coat if >75º) + chuck taylors.

Here's a taste of that post:

Andy's suit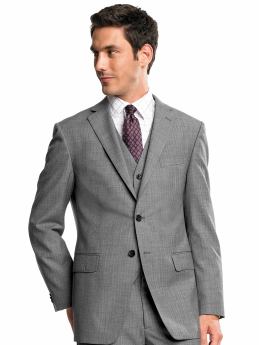 Now the dilemma is deciding what to tell the two groomsmen to wear. Andy doesn't want them to match him, so we'll need to email similar (and less expensive) suit suggestions.
Also, in order to complete the look he'll need to find out the men's shoe sizes and get the Chuck Taylors as groomsmen's gifts or expect the guys to order the right shoe on their own... but c'mon we're dealing with guys here so most of this going to fall on me!